INTRODUCING FORTO'S MOMENTS OF TRUTH
Clarity at every defining moment
Upgrade your logistics visibility with a revolutionary solution that provides exceptional insights into your shipment's journey from origin to destination.
What are the


Moments of Truth

?
Forto Moments of Truth is a visibility solution that provides exceptional insight into the status of your shipments using high-quality data and the latest data processing technology.
With extensive and customizable notifications, Forto helps you stay in control of your shipments through every stage, ensuring success for your international cargo movements.
"The notifications I am receiving are very helpful! I am proactively informed of changes, and the communication is simple and straightforward. I can see at a glance if it's something I need to jump on to mitigate a possible delay or just a heads up."
Cornelia Zenker, Transport Manager / Logistik at SellerX
CLEAR
Stay focused with insights on critical events that affect your shipments.
ACCURATE
Receive only qualified data analyzed by Forto's advanced algorithms.
TIMELY
Plan ahead to avoid and minimize disruptions with timely alerts.
Make better decisions
that keep your shipments flowing
Replan proactively, minimize costs, optimize your operations with dependable information on every Moment of Truth in your shipments journey, and build a competitive edge through insightful visibility.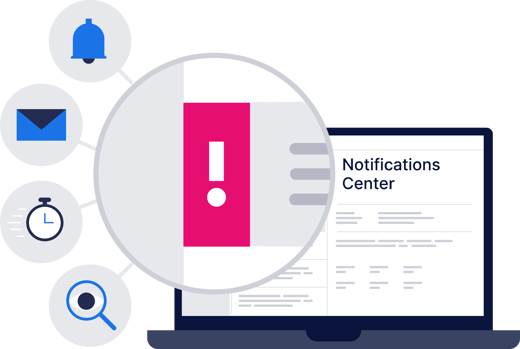 "The new Main Carriage Notifications have proven to be great for us. The notifications allowed us to take swift action and quickly communicate the information to our warehouse and sales department, ensuring that our customers were informed."
Nicole Kruschke, Purchasing Agent at Repac
Enjoy
superior visibility


at every stage of your shipment

These are just a few examples of how we provide great visibility over crucial moments along the cargo journey. You can experience a smoother data-powered supply chain with every Forto shipment.
AT BOOKING
Will the cargo be ready for the planned transport?
Last-minute changes to the Cargo Ready Date can lead to shipment problems and delays. Forto's notifications inform you of changes to cargo readiness from your supplier and help you mitigate risks and replan fast, when you need it.

IN TRANSIT
Will the main carriage depart and arrive on time?
Smooth main carriage is crucial to the delivery time and cost. Our smart notifications will give you full visibility on potential and actual port delays and missed transhipments so you know exactly what is happening and what you need to do next.

AT DESTINATION
Did the container leave and return to the port on time?
Demurrage and detention charges are common sources of additional costs. We can keep you in the loop and ahead of fees with up-to-date information on free days, shipment status, and charges that help you monitor your containers, mitigate risks and avoid pesky extra costs. The difference is in

our data
Your visibility is only as good as the data you are working with. If you're using low-quality data, you won't get a lot out of your visibility tools.
With a combination of automated and operational data checks, Forto offers its customers a clear view of their entire transport processes. The verified data is seamlessly integrated into the Forto customer platform and notifications to help you make the best decisions for your logistics.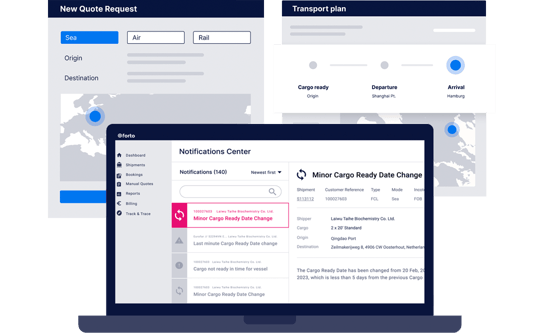 Technology to


power your logistics
At Forto, we build our technology solutions from the ground up. A sophisticated Insights Engine powers our Moments of Truth solution.
This decision-making system runs on proprietary algorithms to process data and trigger the notifications that give you visibility over the most critical moments in your shipments.
The Insights Engine is designed to evolve over time. We start with visibility, but we aim to predict potential problems before they happen.